About Us
The Best Liquid Nicotine for the Best E-Liquids
Manufacturers Who Care Use Quality Ingredients
Nicotine Source was created to supply manufacturers with top quality nicotine and raw ingredients at a fair price.
Our knowledgeable staff is dedicated to provide the best customer service to our clients.
Our promise is to deliver a superior product with fast turn around.
Our mother company has been in business for 15 years.
We create top quality ingredients for manufactures that care about what they put into their products.
We supply raw ingredients ranging from nicotine, propylene glycol, vegetable glycerin, and quality flavoring.
Products
Nicotine Source is the leading provider of premium nicotine, along with a vast collection of flavoring for all of your manufacturing needs.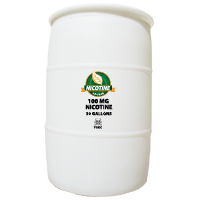 100 MG Nicotine
Our superior quality 100 mg (10%) liquid nicotine is manufactured to exceed pharmaceutical standards. Available in a Vegetable Glycerin or Propylene Glycol base. (Custom blends available) Every batch is tested for accuracy and consistency. A certificate of analysis and batch numbers are provided with every order to comply with the anticipated FDA regulations. Nicotine Source provides the cleanest, smoothest, and best tasting nicotine. Never harsh with no bad after taste. Packaged in a quality, leak proof, air tight container to guarantee safety and freshness. Our nicotine helps your e-liquid sustain a longer shelf life. Nicotine is sold by the gallon; price breaks are available in quantities of 4, 8, and 30 gallons.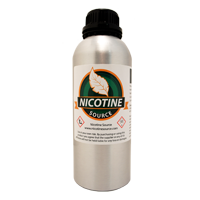 Pure Nicotine
Pure nicotine available to qualified manufacturers.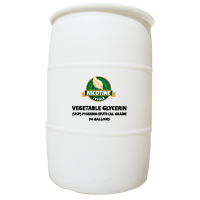 Vegetable Glycerin
Vegetable glycerin, or VG, is a clear, odorless liquid produced from plant oils. VG is thicker than PG and is a bit sweeter. It is used in an e-liquid base to create the "vapor" or "vape cloud". Nicotine Source's PG is the purest, cleanest, (USP) Pharmaceutical Grade product available. Made in the USA.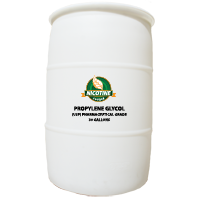 Propylene Glycol
Propylene Glycol, also referred to as PG, is a nearly odorless clear liquid with a mild sweet taste. PG is used in an e-liquid base to create the "throat hit". Nicotine Source's PG is the purest, cleanest, (USP) Pharmaceutical Grade product available. Made in the USA.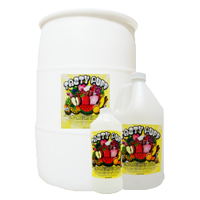 Tasty Puff Concentrated Flavoring
Tasty Puff super concentrated flavor is made with natural extracts, and contains no diacetyl, sugars or artificial sweeteners. Manufacturers use less of this flavor in their e-liquid production because it is of the purest, highest quality, and contains less fillers. This flavoring is superior quality at a fair price. You can choose from over 200 flavors, or we can create a custom flavor for you! Sell more of your e-liquid, and get more repeat business with better, consistent flavor. Each of these flavors are food grade and approved for use in a regulation of the FDA or is listed as G.R.A.S. on a reliable industrial list.
FAQs
Nicotine Source wants to try our best to answer any of your questions.
Some of the most frequently asked questions can be found here.
Please contact us for additional information.
Q: Is your Nicotine synthetic?
A: We only use the best Nicotine – naturally extracted from quality tobacco leaf.
Q: What type of facility do you have?
A: Nicotine Source operates in an FDA compliant facility with a highly advanced clean room.
Q: What do you guarantee?
A: We guarantee freshness, the highest quality products at a fair price, and same day shipping on most orders.
Q: Do you sell flavors?
A: We sell highly concentrated, superior flavoring in over 200 flavors!
Q: Are your prices negotiable?
A: Our prices are standard for typical orders.
If you need to order a larger batch, we can definitely work something out!
Q: What nicotine blends do you carry?
A: We carry PG base, VG base, and Custom Blends are available too!
Q: How do I safely handle liquid nicotine?
A: Nicotine is toxic and potentially fatal. Handle with care.
Wear gloves, face and eye protection, protective clothing, and a respirator mask.
Be sure to have proper ventilation when handling nicotine.
Keep out of reach of children and pets.
(Review the MSDS documentation provided with every order)
Q: What steps do you take to insure quality control?
A: Every batch of nicotine is tested for accuracy and consistency.
Batch numbers and a certificate of analysis are provided with every order.
Q: Is your PG and VG Pharmaceutical Grade?
A: Yes, all of our products are of the highest quality and supersede USA Pharmaceutical standards
Q: How should we store the Nicotine?
A: Nicotine should be stored in cold temperature of 68° or lower.
Keep away from heat, light, and sources of ignition.
Q: Where do you supply and ship to?
A: We supply and ship worldwide!
Q: How is your Nicotine packaged?
A: We package in quality, leak proof, air tight containers for safety and freshness.

Contact Us
Are you interested in carrying our products?